BIG WEDNESDAY: champagne magnums by the glass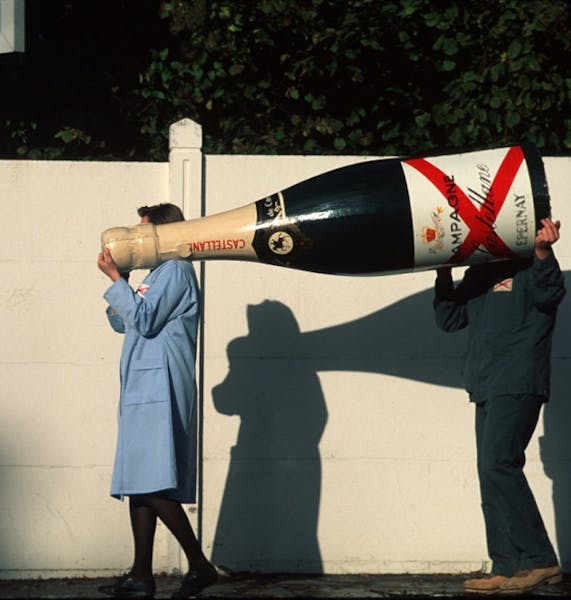 mid-week magnums: large format champagne by the glass
poured 4pm - until we run out!
Why drink out of a magnum? Magnums are one and a half liters, twice a standard 750mL bottle. The reason magnum is the ideal format for enjoying your favorite bubble beverage has to do with the relationship between volume and oxidation. Wine corks are watertight but not airtight. They allow for the slow and steady passage of oxygen gas in and out of the bottles which contributes to the ageing of the wine. Magnums have twice the volume of a regular bottle but roughly the same diameter neck, which means that they age slower and more steadily. You can expect greater freshness from older vintages when drinking champagne from a magnum. Additionally, magnums are usually bottled first with the best barrel selection, so you're likely to find better juice in there from the get go. Cheers!
May 1: Billecart-Salmon Blanc de Blancs
$25/glass, $13/half glass
A strikingly balanced wine from the longest continuously family run Champagne house in the region. This wine has a beautiful green-gold color and fragrant with scents of spring flowers, apple and pear. It is full bodied and creamy with mineral and chalk that turn into delicate white peach.
"Everything is in it's place. I like this one for it's delicate personality and would pair it with any of our selections of caviar." -Crystal, Owner of Effervescence
100% Chardonnay
May 8: Bollinger Special Cuvée Brut
$24/glass, $13/half glass
Champagne Bollinger has roots in the Champagne region dating back to 1585. They were the first Champagne house to obtain the highly respected Patrimonie Vivant (living heritage) seal of quality. Many have heard the very famous champagne quote of Lilly Bollinger who took the helm when her husband died and eventually became one of the renowned Women of Champagne. The Special Cuvée Brut has a beautiful golden color with very fine bubbles that taste like velvet. The aromatics are spicy with ripe fruit and hints of roasted apples. On the palate, look for tastes of pear, brioche and spice with notes of fresh walnut. The wine is one of history's great non-vintage Champagnes aged more than twice the time the appellation requires. No wonder it's one of James Bond's preferred bubbles!
60% Pinot Noir, 25% Chardonnay, 15% Pinot Meunier
May 15: Camille Savés Cuvée Carte Blanche Brut 1 er Cru NV
$15/glass, $8/half glass
The Brut Premier Cru Carte Blanche is a beautiful introduction to the champagnes of Camille Savés. Agricultural engineer, Eugene Savés founded the estate in the heart of Boozy in 1894. Since then his family, first Louis, then Camille and now Hérve tend the vineyard of 10 hectares of premier cru vines. This gorgeous, delicious champagne shows why Bouzy is so regarded. Pears, white flowers and slate flow through to the chiseled finish. It is aged 3 years on the lees and receives a dosage of 9 grams per liter. The family's philosophy is respectful of nature with no herbicides or insecticides used and it's classified as organic. This is without question one of the best champagnes on the market in it's price range so don't miss tasting it at effervescence!
75% Pinot Noir, 25% Chardonnay
May 22: Henriot Brut Souverain
$19/glass, $10/half glass
This champagne charms with it's nose of white flowers, citrus fruits and a balanced harmonious palate. Four years on the lees and the addition of up to 30 percent reserve wines contributes to the rich elegant style. The Brut Souverain blend also contains a small quantity of their prestige cuve 38 champagne. This cuvée , made in the style of a perpetual reserve, is crafted exclusively from grand cru chardonnay and unique to this particular house. "Time is our ally and patience our secret" says Joseph Henriot. "They are the fundamental elements to this champagne house's success since it's founding in1808 in Reims. This house is one of the rare champagne houses that have stayed in the same family for over 210 years. Taste a glass of Henriot and taste a glass of history today at effervescence!
50%Chardonnay, 45% Pinot Noir, 5% Pinot Meunier; 30% reserve wines
May 29: Champagne Le Mesnil Brut Blanc de Blancs Grand Cru
$16/glass, $9/half glass
This Le Mesnil co-op makes a perfect representative example of Chardonnay from Le Mesnil-sur-Oger which is situated at the heart of the prestigious Côtes des Blancs. The cuvée is made by blending various parcels of this superb Grand Cru Chardonnay. It is dead on perfect with a fleshy, creamy attack revealing a more structured well integrated style mid-palate. The aromatics reveal a nose of fresh hazelnut, white flowers, chalk, mineral and toast. The Champagne Le Mesnil shows what a great co-op can produce. It's the English Master of Wine and Champagne writer Tim Atkin's choice for his own wedding……which says something.
100% Chardonnay