BIG WEDNESDAY: champagne magnums by the glass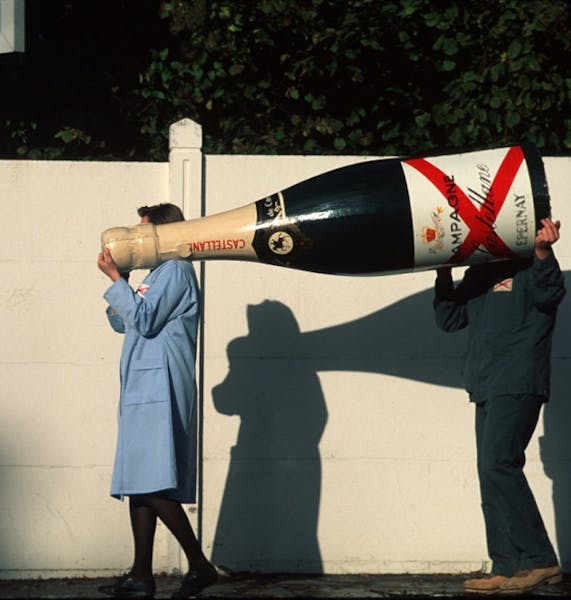 mid-week magnums: large format champagne by the glass
poured 4pm - until we run out!
Why drink out of a magnum? Magnums are one and a half liters, twice a standard 750mL bottle. The reason magnum is the ideal format for enjoying your favorite bubble beverage has to do with the relationship between volume and oxidation. Wine corks are watertight but not airtight. They allow for the slow and steady passage of oxygen gas in and out of the bottles which contributes to the ageing of the wine. Magnums have twice the volume of a regular bottle but roughly the same diameter neck, which means that they age slower and more steadily. You can expect greater freshness from older vintages when drinking champagne from a magnum. Additionally, magnums are usually bottled first with the best barrel selection, so you're likely to find better juice in there from the get go. Cheers!
Febraury 5: Palmer & Co Brut Réserve
$24/glass, $13/half glass
Champagne Palmer & Co was established in 1947 by seven grower-families who shared a desire for perfection and a vision to create a champagne house known for it's passion, harmony and balance. The grapes are harvested from Premier and Grand Crus from the Montagne de Reims area. A significant portion of reserve wines (30-35%) contributes to a rare fullness and maturity. It is aged 4 years on the lees and has 8 g/L dosage. Expect a soft, finely integrated wine with notes of ripe apple fruits and a crisp citrus texture along with a hazelnut and buttery brioche finish. Taste a glass of bubbly which has been called "the model of balance" by wine critics.
50-55% Chardonnay, 30-35% Pinot Noir, 10-15% Pinot Meunier
February 12: Drappier Carte d'Or
$19/glass, $10/half glass
The Drappier vineyard covers 100 hectares and constitutes the House's essential trump card. Since 1808 the family has used it's skill to select parcels of land which are particularly well exposed to the sun and extremely rich in limestone. For the most part they are located around Urville, where Pinot Noir, the predominant grape variety, finds it's loveliest expression. This allows for the production of very elegant, aromatic wines. The Carte d'Or cuvée is the very expression of the Drappier style. With it's very high proportion of Pinot Noir, one is almost tasting a Blanc de Noir. This is a vinous Champagne of lovely complexity with a characteristic note of quince jelly. You will find all the Drappier "know-how" in this Champagne!
75% Pinot Noir, 15% Chardonnay, 10% Pinot Meunier
February 19: J Lassalle "Cuvée Preference" 1er Cru Brut
$20/glass, $11/glass
This lime scented cuvée is the work of chef de cave Angeline Templar, whose grandfather founded this estate in 1942. It's a grower Champagne whose wines are elegant, tightly knit and structured. When patriarch Jules Lassalle passed away in 1982, his wife and their daughter took over the estate. The twenty-eight year tradition of "une femme, un esprit, un style" (one woman, one spirit, one style) holds true today with Angeline at the helm. Expect a full bodied, balanced wine with fruitiness underpinned with a hint of licorice or fennel.
60% Pinot Meunier, 20% Chardonnay, 20% Pinot Noir