BIG WEDNESDAY: champagne magnums by the glass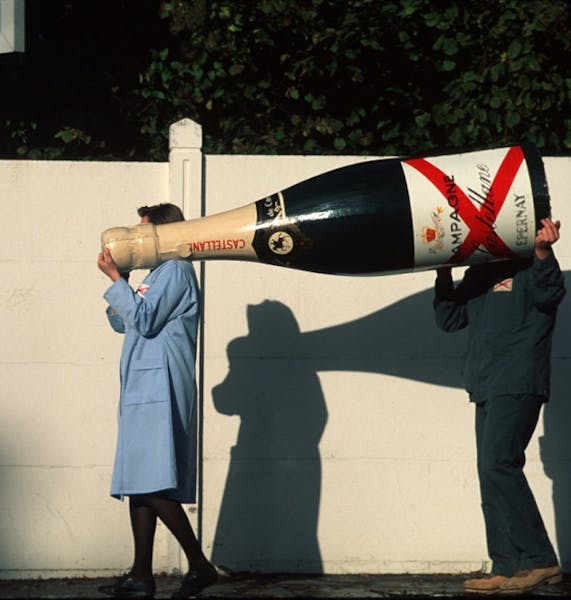 mid-week magnums: large format champagne by the glass
poured 4pm - until we run out!
Why drink out of a magnum? Magnums are one and a half liters, twice a standard 750mL bottle. The reason magnum is the ideal format for enjoying your favorite bubble beverage has to do with the relationship between volume and oxidation. Wine corks are watertight but not airtight. They allow for the slow and steady passage of oxygen gas in and out of the bottles which contributes to the ageing of the wine. Magnums have twice the volume of a regular bottle but roughly the same diameter neck, which means that they age slower and more steadily. You can expect greater freshness from older vintages when drinking champagne from a magnum. Additionally, magnums are usually bottled first with the best barrel selection, so you're likely to find better juice in there from the get go. Cheers!
September 4: Dumangin "La Cuvée" Premier Cru '17
$21/glass, $12/half glass
Dumangin is a small producer which used to sell most of its grapes to the big champagne houses. Since Gilles Dumangin, fifth generation of successful winemakers, came back to the farm from a career in IT, he has started to get great results with his range of Champagnes. Nicknamed "Créateur de Cuvées", he has over 15 different Champagnes in his portfolio at any given time and has been called to make designer brands. The family vineyards are located in Chigny-les-Roses nestled on the slopes of the Montagne de Reims. This cuvée is made predominately with Premier Cru grapes. It is impressive with pronounced notes of citrus, peach and green apple. It has just enough acid to cut through the fruity notes resulting in a crisp dry and biscuity palate.
Best described as deliciously combining fruitiness and texture. Pour me a glass please!
34% Pinot Meunier, 33% Pinot Noir, 33% Chardonnay
September 11: CLOSED FOR SUMMER BREAK
September 18: CLOSED FOR SUMMER BREAK
September 25: Trouillard Extra Brut Selection
$16/glass, $9/half glass
Maison Trouillard is a very old established champagne house which was founded in 1896 by Lucien Trouillard. In 2006 they joined forces with the Robillard family and continue to use the Trouillard name. With a light amber color and fine bubbles you can expect aromas of roasted hazelnuts and flavors of white fruit. The stye is similar to a Blanc de Blanc with an emphasis on refreshing creamy flavors with little yeastiness even though it's aged on the lees for 2 years before bottling. The finish is long but dry. This wine is pressed from 15 different vineyards located in the Aube, specifically the Marne Valley. Pop in to taste a lessor known but well established champagne house poured via magnum table side at effervescence.
35% Pinot Noir, 35% Pinot Meunier, 30% Chardonnay