BIG WEDNESDAY: champagne magnums by the glass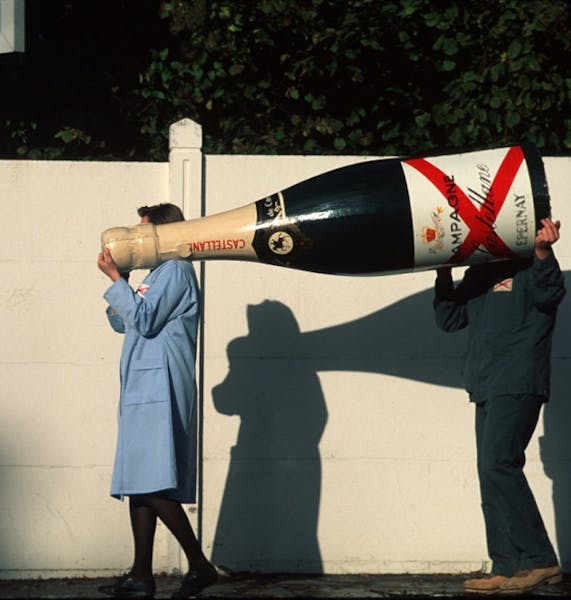 mid-week magnums: large format champagne by the glass
poured 4pm - until we run out!
Why drink out of a magnum? Magnums are one and a half liters, twice a standard 750mL bottle. The reason magnum is the ideal format for enjoying your favorite bubble beverage has to do with the relationship between volume and oxidation. Wine corks are watertight but not airtight. They allow for the slow and steady passage of oxygen gas in and out of the bottles which contributes to the ageing of the wine. Magnums have twice the volume of a regular bottle but roughly the same diameter neck, which means that they age slower and more steadily. You can expect greater freshness from older vintages when drinking champagne from a magnum. Additionally, magnums are usually bottled first with the best barrel selection, so you're likely to find better juice in there from the get go. Cheers!
January 15: Paul Clouet Grand Cru Brut
$22/glass, $12/half glass
Founded in 1907, Paul Clouet is one of the most respected houses in the Grand Cru village of Bouzy. Marie-Therése Clouet-Bonnaire carries on the work of her parents with help from her husband Jean-Louis Bonnaire who is a well known winemaker in Crament. This wine is an assembly of two Grand Cru Champagnes, Bouzy and Chouilly. The black Bouzy Pinot provides structure and strength and the Chouilly Chardonnay provides lightness and flexibility. On the nose expect yellow apples, honey and brioche and on the palate tastes of citrus, green apples mixed with sweet fruit prevail. It has 8 grams/L dosage giving a ripe and fruit driven wine with great finesse. Try with appetizers, cheese or fish....pretty much anything on our menu at Effervescence!
80% Pinot Noir, 20% Chardonnay
January 22: Piper Heidsieck
$18/glass, $10/half glass
A classic, well-structured, and fruit forward champagne that had it's beginnings back in the 1700's. Piper-Heidsieck carefully selects fruit from more than 100 of Champagne's crus to blend their Brut NV. This selection adds great complexity and dimension while still allowing the bold Piper-Heidsieck style to shine through. The cuvée carries flavors of ripe black cherry, grated ginger, toast point, and a touch of mineral. It is a beautifully textured, fruity, fresh and elegant champagne with a dosage of 10 g/L. The house is so loved by the film society that it has been the official supplier of the legendary International Cannes Film Festival!
50-55% Pinot Noir, 30-35% Pinot Meunier, 15-20% Chardonnay; 10-20% Reserve Wines
January 29: Louis Roederer Brut Premier
$21/glass, $11/glass
After the upheavals of the early 1900's, particularly the First World War that destroyed more than half of the Louis Roederer Estate, Léon Olry Roederer reconstructed the vineyards. He decided to buy grapes to ensure the continuity of the house during this difficult period and, at the same time, create a multi vintage wine that would have a consistent flavor, whatever the harvest year. It is now called "Brut Premier".
Striking a perfect balance between youthfulness and maturity, seduction and character, freshness and venosity, Brut Premier is a champagne that is harmonious and structured. It consists of all three traditional grape varieties and the wine is matured in oak. It is aged for three years and left six months after dégorgement in the cellar. Expect brioche and honey notes along with ripe white fruit in an elegant wine.
What a terrific opportunity to taste a classic aperitif and gastronomic wine made by one of the last remaining family owned and run Champagne Houses......a rarity these days!
40% Pinot Noir, 40% Chardonnay, 20% Pinot Meunier