BIG WEDNESDAY: champagne magnums by the glass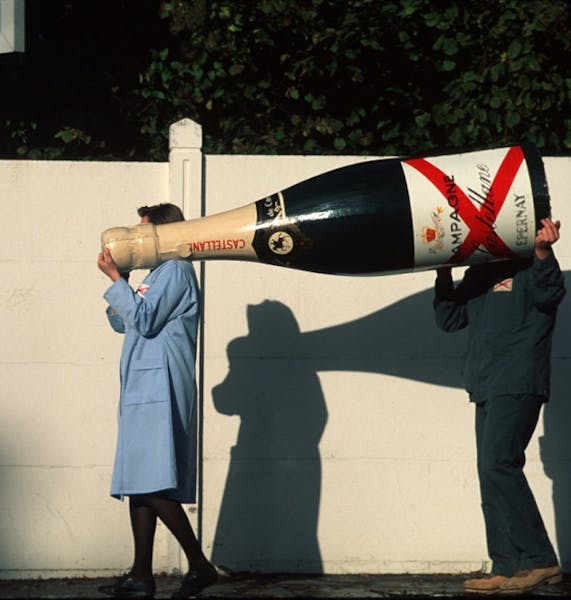 mid-week magnums: large format champagne by the glass
poured 4pm - until we run out!
Why drink out of a magnum? Magnums are one and a half liters, twice a standard 750mL bottle. The reason magnum is the ideal format for enjoying your favorite bubble beverage has to do with the relationship between volume and oxidation. Wine corks are watertight but not airtight. They allow for the slow and steady passage of oxygen gas in and out of the bottles which contributes to the ageing of the wine. Magnums have twice the volume of a regular bottle but roughly the same diameter neck, which means that they age slower and more steadily. You can expect greater freshness from older vintages when drinking champagne from a magnum. Additionally, magnums are usually bottled first with the best barrel selection, so you're likely to find better juice in there from the get go. Cheers!
March 4: Béreche et Fils Brut Reserve
$20/glass, $11/half glass
This old domaine was founded in 1847 and was one of the first grower-bottlers to create an independent reputation. Today, Champagne's rising stars Raphael and Vincent accompany their father Jean-Pierre at their nine-hectare estate since 2004. Their estate owns vines in several different sectors of Champagne including around Ludes in the chalky Montagne de Reims, Ornes, the Petite de Reims, Mareuil le Port, the Vallée de la Marne, Trémail, Mailly and Rilly La Montagne. They changed their designation from RM to NM in 2013 as they now buy some special grapes from respected growers. Béreche returned to manual working of their vines, stopped all use of chemical herbicides and are moving to biodynamic viticulture. They forgo malolactic fermentation and prefer to ferment in barrel. This cuvée has 7g/L dosage and is bottle aged 2-3 years giving it a compelling, complex and refined profile. Expect aromas of apples, peaches and even tangerine with hazelnut and black pepper. The texture has many layers and will adapt well with all of our small plates. Have some fun tasting this one with food!
30% Chardonnay, 35%Pinot Meunier, 35% Pinot Noir
*Base supplemented with 30% reserve wines from multiple vintages
March 11: Veuve Clicquot Yellow Label
$22/glass, $12/half glass
Founded in 1772 by Philippe Clicquot in Reims, France and one of the largest Champagne houses in the world, Veuve Clicquot's house style is a balance between power and finesse. Madame Clicquot shared his passion and knowledge for Champagne creation and distribution. After his untimely death in 1805, she took the reins of the family house. In an era when women were excluded from the business world, she undertook the head of the company with passion and determination by perfecting new techniques of production, inventing the riddling table, innovating the very first rose Champagne, and uncompromising when it came to the quality of her wines. Grapes from as many as 50 to 60 crus go into the blending creating a consistent wine with hints of toast and biscuit accented lightly with honeyed flavors of quince, apple blossom and peach. Raise a glass to the "Grand Dame" while tasting one of the most recognizable and popular champagnes in the world!
50-55% Pinot Noir, 28-33% Chardonnay, 15-20% Pinot Meunier
*Traditionally may vary from year to year.
March 18: Camille Savès Carte Blanche Brut 1er Cru NV
$15/glass, $8/half glass
The Brut Premier Cru Carte Blanche is a beautiful introduction to the Champagnes of Camille Savès. Agricultural engineer, Eugene Savès founded the estate in the heart of Bouzy in 1894. Since then his family, first Louis, then Camille and now Hervé tend the vineyard of 10 hectares of premier cru vines. This gorgeous, delicious Champagne shows why Bouzy is so highly regarded. Pears, white flowers and slate flow through to the chiseled finish. It is aged 3 years on the lees and receives a dosage of 9 grams per liter. The family's philosophy is respectful of nature with no herbicides or insecticides used and organic, natural treatments when working the soil. This is without question one of the best Champagnes on the market in it's price range so don't miss tasting it at Effervescence!
75% Pinot Noir, 25% Chardonnay
March 25: Lanson Rose Label
$23/glass, $13/half glass
This delicate wine, created in 1950s, was one of the first ever rosé Champagnes. It is also one of the most well-loved, particularly for its freshness that echoes Lanson Black Label. Lanson was the first Champagne house to be awarded the famous Royal Warrant as an official supplier to the court of England in 1900. The house is proud to be the official Champagne of Wimbledon since 1977 and served at Effervescence's Wimbledon parties! It shows a pale salmon color with riffs of toasted lees baked pear and citrus on the nose. This is a crisp elegant wine with tastes of toasty mineral, cherry, citrus and green apple. It is aged at least three years in the cellar including at least six months after disgorging to enhance the flavors. Try a magnum pour at Effervescence and give us your tasting notes.
53% Pinot Noir, 32% Chardonnay, 15% Pinot Meunier