BIG WEDNESDAY: champagne magnums by the glass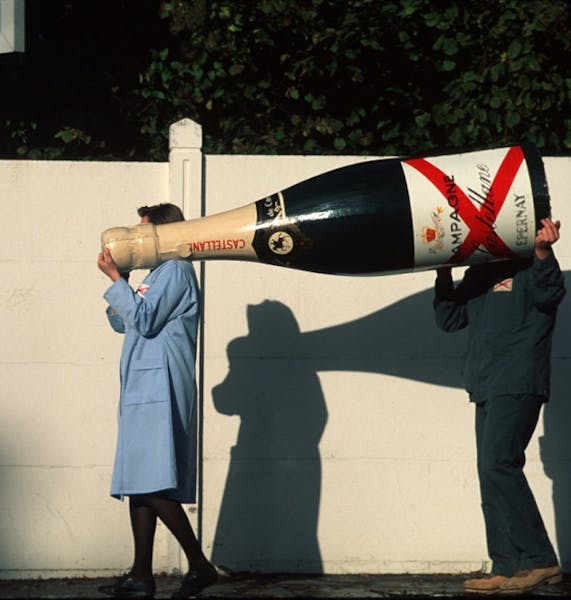 mid-week magnums: large format champagne by the glass
poured 4pm - until we run out!
Why drink out of a magnum? Magnums are one and a half liters, twice a standard 750mL bottle. The reason magnum is the ideal format for enjoying your favorite bubble beverage has to do with the relationship between volume and oxidation. Wine corks are watertight but not airtight. They allow for the slow and steady passage of oxygen gas in and out of the bottles which contributes to the ageing of the wine. Magnums have twice the volume of a regular bottle but roughly the same diameter neck, which means that they age slower and more steadily. You can expect greater freshness from older vintages when drinking champagne from a magnum. Additionally, magnums are usually bottled first with the best barrel selection, so you're likely to find better juice in there from the get go. Cheers!
June 26: Gonet-Medville Brut Premier Cru Tradition
$19/glass, $10/half glass
This cuvée has an intensely aromatic yet pure and mineral bouquet. It's a rich bubbly that has a firm and lively acidity, providing a fine frame on which to showcase the wine's lightly honeyed apple, quince, floral and spice notes. This traditional cuvée is winemaking spouses Xavier Gonet and Julie Medeville's creation. The fruit comes exclusively from organically farmed Grand Cru and Premier Cru vineyards. Dosage is reduced to a minimum (6 grams) and malolactic fermentation is blocked, all to express purity of expression. Here is your chance to taste a grower Champagne with a pearl- like mousse and terrific length. This is lovely stuff and and will gets the palate going- a great aperitif!

70% Chardonnay, 25% Pinot Noir, 5% Pinot Meunier
July 5: CLOSED
July 10: Drappier Carte d'Or Brut
$22/glass, $12/half glass
The Drappier vineyard covers 100 hectares and for the most part is located around Urville, where Pinot Noir, the predominant grape variety finds it's loveliest expression and allows the production of very elegant, aromatic wines. Since 1808, the family has used it's skill to select parcels of land which are particularly well exposed and extremely rich in limestone. The Carte d' Or cuvée is the very expression of the Drappier style. With its very high proportion of Pinot Noir (almost 80% of the blend), one is almost tasting a Blanc de Noirs. This is a Champagne with a fine aromatic richness which opens with aromas of stone fruit such as white vineyard peaches. A spicy hint announces a powerful and complex palate which has a distinct characteristic note of quince jelly.
75% Pinot Noir, 15% Chardonnay, 10% Pinot Meunier
July 17: Lanson "Rose Label" Brut Rosé
$23/glass, $12/half glass
This rosé Champagne is Crystal's (Effervescence's owner) favorite of the Lanson portfolio of bubbles. The Lanson House was the very first to be awarded the famous Royal Warrant as an official supplier to the court of England in 1990 and the official bubbles of the famous Wimbledon tennis championship. This delicate wine was created in the 1950's and one of the very first rosé Champagnes! It is also one of the most well-loved, particularly for it's freshness that echoes the Lanson Black Label. Expect whiffs of toasted lees and biscuit with baked pear and citrus. A long maturation of at least 3 years in the cellar and another 6 months after disgorgement while blocking malolactic fermentation produce tastes of toasty mineral, cherries, citrus and green apple. A small amount of still Pinot Noir from Bouzy is added to give this cuvée it's lovely pale salmon color.
53% Pinot Noir, 32% Chardonnay, 15% Pinot Meunier
July 24: Aubry Brut NV
$17/glass, $10/half glass
Aubry is a grower Champagne made by twin brothers Pierre and Phillippe, who are known for their original and unique bubbles. One reason for their uniqueness is they use no sugar in their dosage but use concentrated grape must instead. Another, is that they include the indigenous varieties, Arbanne, Petit Meslier and Fromanteau along with the traditional Chardonnay, Pinot Noir and Pinot Meunier grapes in their wines. They lend this wine it's signature complexity with notes of pickled ginger and green apple with some smokey mineral overlays. See if you can taste these unusual rare grapes in this Aubry blend!
55% Pinot Meunier; 25 % Chardonnay; 20% Pinot Noir, 5% Arbanne, Petit Meslier and Fromenteau
July 31: Leclerc Briant Brut Réserve
$25/glass, $13/half glass
Leclerc Briant, founded in 1872, is a trailblazing champagne house producing wines of singular energy and nerve. They were an early adapter of organic practices in the 1960's and the first to bottle a single-vineyard Champagne in the 1970's. More recently an American couple acquired the house after the sudden death of Pascal Leclerc and partnered with a French chef du cave to reclaim it's place in Champagne. Many of their grapes are grown in a field blend and are all harvested at the same time. Each stage of vilification is soft and natural. Expect the depth and fruitiness of a Champagne made from 80% red grapes and the lemony acidity from the Chardonnay. The finish is firmly dry with lingering notes of coriander and chervil. In addition, all their Champagnes on the market are certified vegan!
40% Pinot Noir, 40% Pinot Meunier, 20% Chardonnay