Tableside Thursdays: Champagne MAGNUM pours by the glass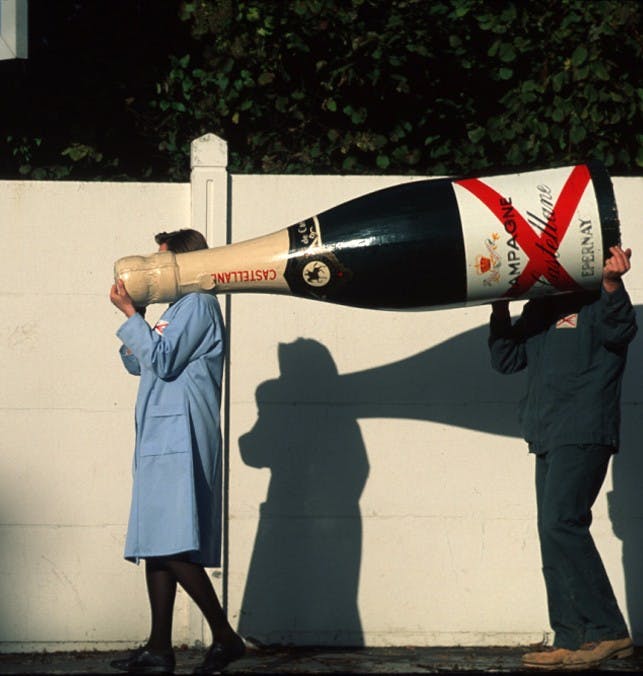 Tableside Thursdays
A Weekly Series of BIG Champagne
Magnums poured at your table!
poured 4:30pm - until we run out!
Thursdays, we're popping a big bottle of Champagne with a stellar pedigree. The bubbly will be available by the glass until the bottle is empty. Come early to make sure you don't miss out!
What makes BIGGER better??
Why drink out of a magnum? Magnums are one and a half liters, twice a standard 750mL bottle. The reason magnum is the ideal format for enjoying your favorite bubble beverage has to do with the relationship between volume and oxidation. Wine corks are watertight but not airtight. They allow for the slow and steady passage of oxygen gas in and out of the bottles which contributes to the ageing of the wine. Magnums have twice the volume of a regular bottle but roughly the same diameter neck, which means that they age slower and more steadily. You can expect greater freshness from older vintages when drinking Champagne from a magnum. Additionally, magnums are usually bottled first with the best barrel selection, so you're likely to find the best juice in there from the get go. Cheers!
CLOSED September 7th & 14th & 21st
MAGNUMS RETURN THURSDAY SEPTEMBER 28th!
September 28th: Delamotte Brut
Le Mesnil-Sur-Oger, Champagne, France
$27/glass
Delamotte is often known as the "sister" house to the great Salon Champagne. It imposes a similar style with the dominating majority of Grand Cru Chardonnay grapes from Le Mesnil-Sur-Oger (one of the most famed vineyards in the world) in its blend. They add a smaller portion of Pinot Noir and Pinot Meunier which bring an aromatic charm of citrus, white flowers, chalk and oyster shell. This cuvée does not rely on reserve wines for its character but finds personality in its roots. A classic bubbly for a treat on a Thursday evening at Effervescence!
55% Chardonnay, 35% Pinot Noir, 10% Pinot Meunier
October 5th: Thiénot Brut
Taissy, Champagne, France
$25/glass
This blend of the three classic Champagne varieties offers the epitome of finesse, fruit and freshness. Reserve wines account for 45% fo this blend and it is aged for four years in their cellars at Rue des Moissons in the premier cru village of Taissy. Aromas of orchard fruit in the glass set the perfect tone for fall and it is October, so drink up!
45% Chardonnay, 35% Pinot Noir, 20% Pinot Meunier
October 12th: Philipe Gonet "Brut Réserve"
Le Mesnil-sur-Oger, Champagne, France
$28/glass
The house was founded in 1830 in the heart of Le Mesnil-sur-Oger but the family's vineyards are spread out on 35 plots planted in 8 different villages in Champagne. On the nose, one will find fall fruit and on the palate it proves to be full-bodied with plenty of finesse. This "Brut Réserve" has revealed itself to be a wine of pleasure and sharing so find a friend and share a glass!
30% Chardonnay, 60% Pinot Noir, 10% Pinot Meunier
October 19th: Billecart-Salmon "Brut Réserve"
Mareuil-sur-Aÿ, Champagne, France
$25/glass
Billecart-Salmon stands out as the oldest continuously family-owned and operated house in Champagne. It is currently managed by the 7th generation. They incorporate double cold filtering in their style of winemaking which results in great purity and freshness, a signature of the house style. This cuvée has 55% reserve wine incorporated and a dosage of 6.2 grams per liter. The nose offers a bouquet of spring flowers and citrus while on the palate it is layered with orchard fruit, menthol and pastry. This wine is charming and delicious. It is a crowd pleaser for sure.
30% Chardonnay, 30% Pinot Noir, 40% Pinot Meunier
October 26th: Aubry Premier Cru Brut
Jouy-les-Reims, Champagne, France
$27/glass
The Aubry family traces wine growing to 1790 and are well known and adored for growing the ancient grape varieties still permitted in the Champagne A.O.C. (Appellation d'Origine Contrôlée). Pressing is done in the traditional "coquard" basket press and 40% reserve wines are used from a perpetual cuvée started in 1998. These factors build the complexity of smoke, floral and citrus notes you will taste in this wonderful cuvée.
35% Chardonnay, 30% Pinot Noir, 30% Pinot Meunier, 5% Arbanne, Petit Meslier & Fromenteau
If you're making a special trip for Tableside Thursdays, please make a reservation and note of how many glasses of our featured Champagne Magnum you would like to reserve for your party and we can save you some of this special limited bubbly. (For same day reservations, we will do our very best to meet requests but can not always guarantee availability.)