Main content starts here, tab to start navigating
Menu
Slide 1 of 9
Slide 2 of 9
Slide 3 of 9
Slide 4 of 9
Slide 5 of 9
Slide 6 of 9
Slide 7 of 9
Slide 8 of 9
Slide 9 of 9
please note these are sample menus and our selections change frequently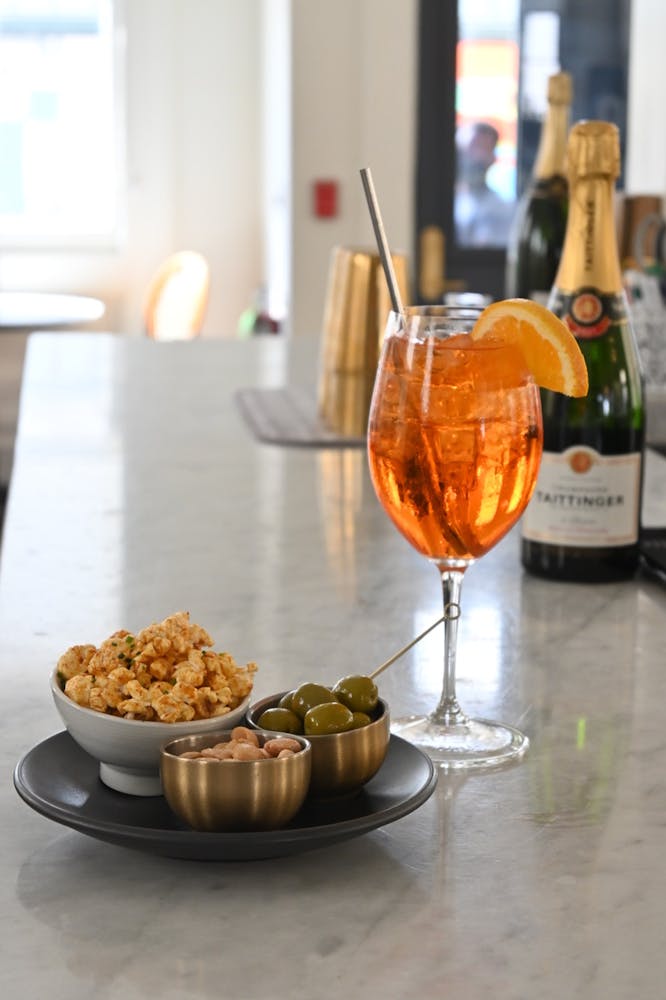 Friday & Saturday
from 4 to 5pm
aperol spritz

frizzenti prosecco, aperol, soda, orange

$6

glass of thienot "brut"

(champagne, france)

$14

Bottle of collet "Art Deco"

champagne, france

$65

snack bites

(olives, almonds, pop-corn)

$4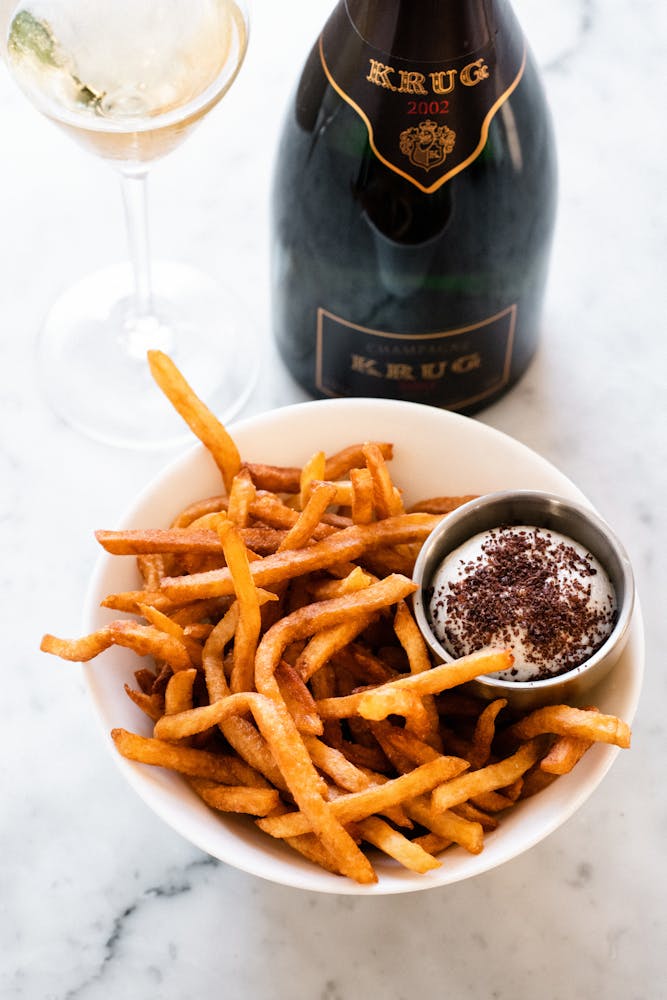 Available every day, all day!
bites
castelvetrano olives

$5

marcona almonds

$5

murder point oysters

espelette mignonette

$3 per each

grilled half wheel of cheese

heirloom grain crostini, barhi dates

$17

brussels sprouts kebabs

labneh ranch, za'atar

$10

truffle pommes frites

fresh shaved black summer truffle, green garlic aioli

$19

frites

green garlic aioli

$9

chilled crab claws

gulf blue crab, remoulade

$15

Crawfish & Ramp Arancini

saffron aioli

$14

crispy duck crêpe

spiced roast duck, sunchoke purée, urfa yogurt, pomegranate, kale

$18

dessert of the week

$10
caviar
served with house potato chips, crème fraîche and chives
bowfin, Cajun Caviar

$38

kaluga fusion reserve, Tsar Caviar

$65

golden osetra, Tsar Caviar

$100
Slide 1 of 4
Slide 2 of 4
Slide 3 of 4
Slide 4 of 4
SALMON LATKE BRUNCH
Sunday June 13
Limited quantity. Please email crystal@effervescencenola.com when you make a reservation and let us know if would like to reserve a dinner or brunch!
wild smoked coho salmon
potato latkes
crème fraîche hollandaise
cherry tomato
caramelized onion, caper, dill
soft boiled egg
$28/person
add bowfin Cajun Caviar $17
add Tsar Caviar kaluga fusion $30
30% off pét-nat bottles all day
Brunch beverages
coco's ice coffee

cream and chocolate bitters

$5

orange juice

$4

french press

congregation coffee

small $5

large $8

hot tea

$4

bubbly mary

st. roch or nola pepper vodka, the champagne of beers, tomato juice, worcestershire, horseradish, lemon, lime, pickled green beans, smoked celery salt

$14

mimosa

bianca vigna prosecco, choice of fresh juice

$12
Slide 1 of 5
Slide 2 of 5
Slide 3 of 5
Slide 4 of 5
Slide 5 of 5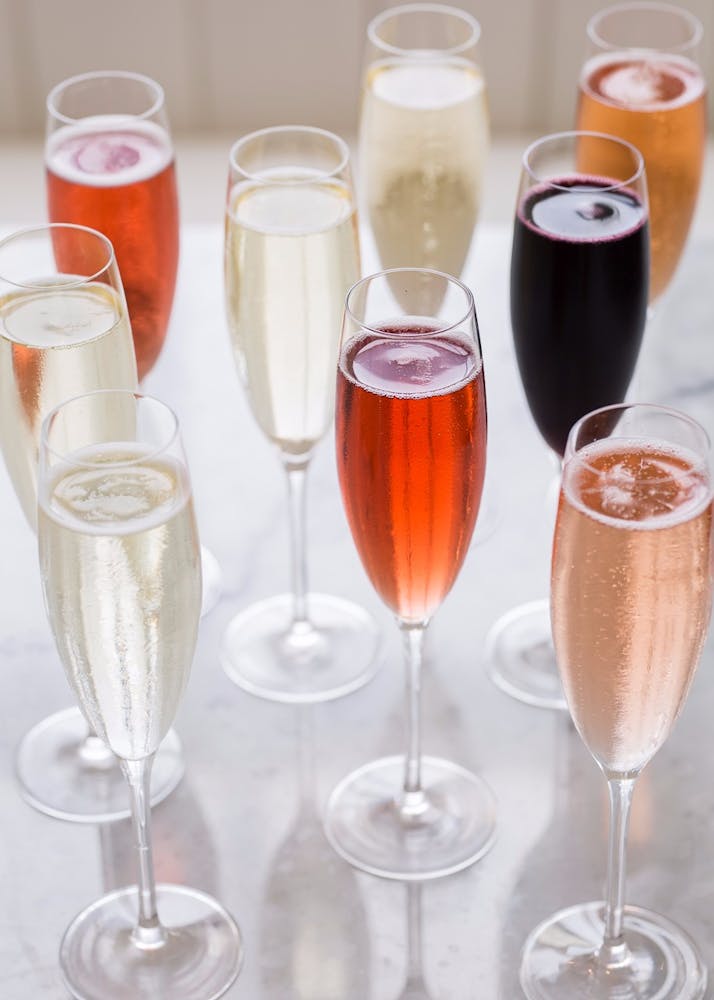 bubbles by the glass
⧫ denotes grower sparkling/champagne
bianca vigna prosecco

(valdobbiadene, italy)

half $6

full $10

famiglia carafoli "nicchia" lambrusco di modena

(emilia-romagna, italy)

half $6

full $11

Roger Goulart gran reserva brut '12

(penedes, spain)

full $12

half $7

murgo brut rosé

(sicily, italy)

full $15

half $8

raventos i blanc "de nit" rose ⧫

(penedes, spain)

full $15

half $8

follador brut nature prosecco '18 ⧫

(veneto, italy)

full $16

half $9

gramona imperial corpinnat 2014 ⧫

(penedes, spain)

half $10

full $18

thienot brut

(taissy, france, champagne)

full $22

half $12

canard-duchêne rosé

(ludes, champagne, france)

full $25

half $13

Dhondt-grellet "dans un premier temps" ⧫

(vertus, champagne, france)

full $28

half $15

billecart-salmon brut rosé

(mareuil sur ay, champagne, france)

half $18

full $35

hervieux-dumez special club 2014 ⧫

sacy, champagne , france

full $45

half $25

krug " grande cuvée" 168eme édition

(reims, champagne, france)

half $30

full $55

salon "le mesnil" blanc de blancs brut '07 ⧫

(le mesnil-sur-oger, france)

half $80

full $160

veuve clicquot "la grande dame"08'

reims, champagne, france

half $30

full $55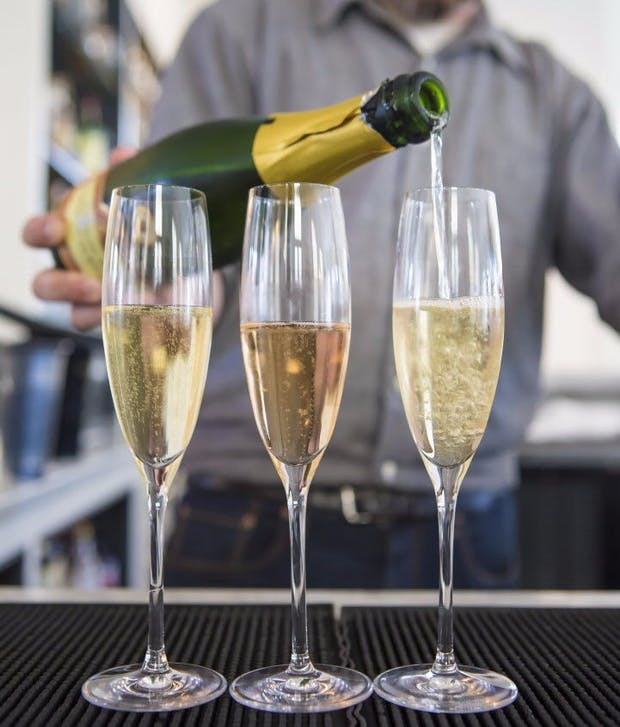 bubbly flights
cava or not cava

roger goulart grand reserva, raventos i blanc "de nit" rosé, gramona "imperial" corpinnat 2014

full $45

half $25

ciao bella

follador brut nature prosecco '18, murgo brut rosé, famiglia Carafoli "nicchia" lambrusco di Modena

half $23

full $42

rosé all day

raventos i blanc rosé, murgo rosé, canard-duchêne brut rosé

half $30

full $55

may all your pain be champagne

dhondt-grellet "dans un premier temps", thiénot brut, canard-duchêne rosé,

half $40

full $75

la crème de champagne

hervieuz-dumez special club 2014, billecart-salmon rosé, veuve clicquot "la grande dame" '08

half $75

full $135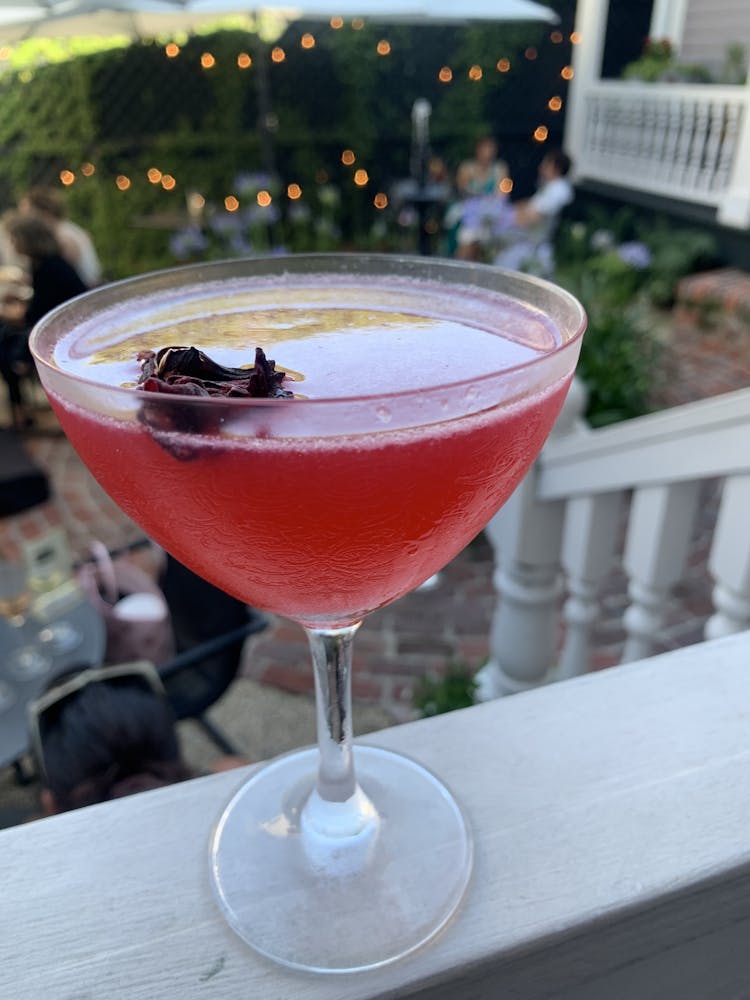 bubbles + troubles
prosecco pop

sparkling wine with seasonal popsicle

$12

rum was not built in one day

black pearl rum, grapefruit, poli honey grappa, rosemary, lime, sparkling wine

$14

bourbon with a passion

blade&bow bourbon, passion fruit, liquor finocchieto, lemon, sparkling wine

$15

my way or the hibiscus way !

uncle val's botanical gin, hibiscus, raspberry liqueur, lime, sparkling wine

$14

vieux carré mule, new tricks

Tito's vodka, luxardo maraschino liqueur, domaine de canton, sparkling rosé

$14

alpine for you

espolon blanco tequila, strawberry, mango, alpine liqueur, lime, sparkling wine

$14
house dessert cocktails
coco's after dinner delight

tito's vodka, white chocolate godiva liqueur, almond milk, caramel

$12

grasshopper

crème de menthe liqueur, crème de cacao liqueur, heavy cream

$12
Slide 1 of 6
Slide 2 of 6
Slide 3 of 6
Slide 4 of 6
Slide 5 of 6
Slide 6 of 6
Sparkling Classics
aperol spritz

frizzenti prosecco, aperol, soda, orange

$12

death in the afternoon

sparkling rosé, corsair red absinthe

$14

house french 75

frizzenti prosecco, lemon, bache gabrielson "tre kors" cognac OR citadel gin

$12
Champagne Classics
champagne french 75

ayala "brut majeur", lemon, maison surenne "petite champagne" cognac OR ferdinand saar dry gin

$25

kir royale

ayala "brut majeur", gabriel boudier crème de cassis

$25

the hemingway champagne

ayala "brut majeur", vieux pontarlier absinthe

$25

champagne cocktail

ayala "brut majeur", burlesque bitters, palm sugar

$25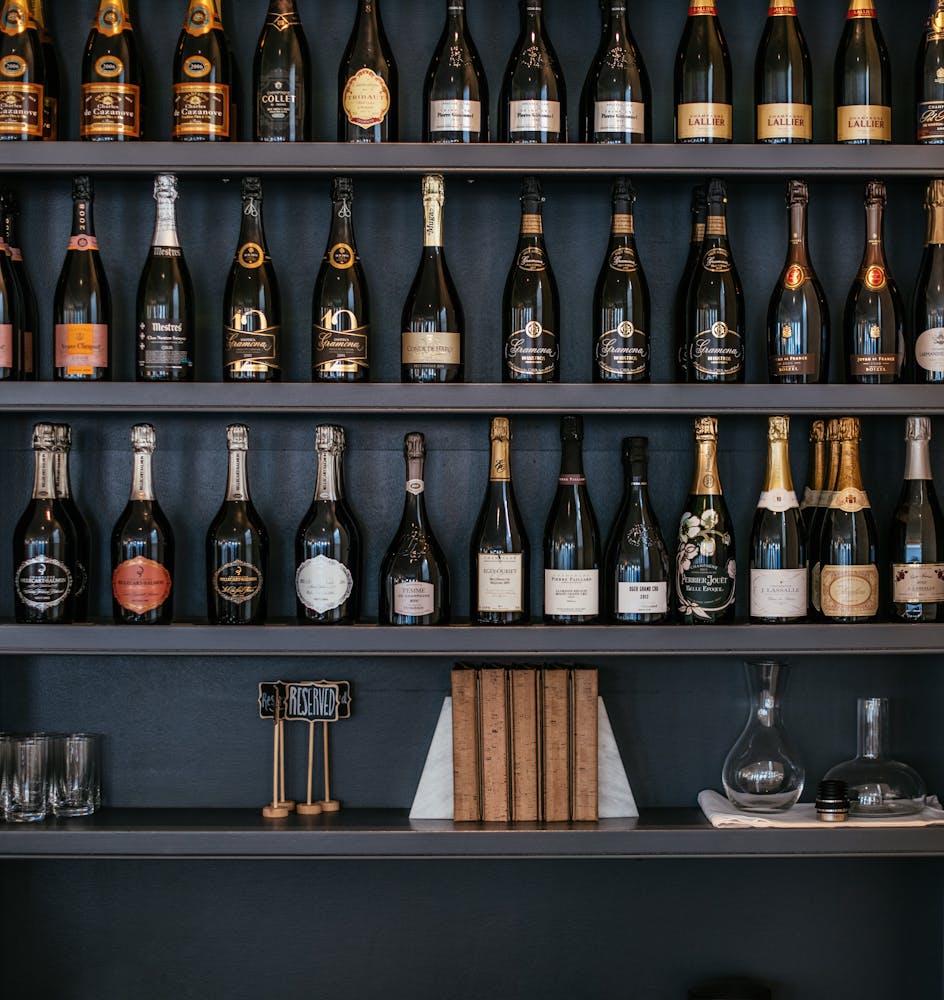 non-vintage champagne
⧫ denotes grower champagne
haton et fils brut

(romery)

$78

delamotte brut

Mesnil-sur-oger

$80

collet brut "art deco"

(aÿ)

$85

Ayala "brut majeur"

ay

$90

tribaut brut origine

(romery)

$80

tribaut "blanc de chardonnay"

(romery)

$90

gosset "excellence" brut

(aÿ)

$90

taittinger "la française" brut

(reims)

$90

thiénot brut

(taissy)

$90

bourgeois-diaz "3C trois cépages" extra brut ⧫

(crouttes sur marne)

$94

lanson "black label

(reims)

$95

lanson "white label" sec ⧫

(reims)

$95

castelnau brut réserve

(reims)

$95

gaston chiquet "tradition" brut ⧫

(dizy)

$95

louis roederer brut premier

(reims)

$95

marc hébrart cuvée de réserve 1er cru

(mareuil-sur-aÿ)

$99

deutz "brut classic"

(ay)

$99

a. bergere "selection" brut réserve

(épernay)

$100

bérêche et fils brut réserve

(ludes)

$100

H. Goutorbe " cuvée prestige" 1er cru

(aÿ)

$100

voirin-jumel "tradition" ⧫

(cramant)

$100

drappier "carte d'or" brut

(urville)

$100

veuve clicquot "yellow label"

(reims)

$100

jean vesselle brut réserve ⧫

(bouzy)

$105

billecart-salmon brut

(mareuil-sur-aÿ)

$105

perrier-jouët grand brut

(epernay)

$105

duval-leroy brut réserve

(vertus)

$110

J.lassalle cuvée préférence" ⧫

(chigny-les-roses)

$115

gonet-medeville brut tradition ⧫

(aÿ)

$115

roland champion blanc de blancs ⧫

chouilly

$120

waris-hubert blanc de blancs grand cru

(avize)

$120

veuve fourny et fils premier cru grande réserve brut

(vertus)

$120

tarlant "zéro" brut nature ⧫

(oeuilly)

$120

pierre gimmonet brut blanc de blancs ⧫

(cuis)

$120

De Sousa blanc de blancs grand cru bru

(avize)

$120

collard-picard "cuvee selection" blanc de noirs brut ⧫

(epernay)

$120

philipponat brut royale réserve

(mareuil-sur-aÿ)

$120

cédric bouchard roses de jeanne "val vilaine" blanc de noirs ⧫

(celles-sur-ource)

$120

charles heidsieck brut réserve

(reims)

$120

boizel brut réserve

(epernay)

$120

marguet "shaman 15" grand cru

(ambonnay)

$130

dhondt-grellet "dans un premier temps" extra brut ⧫

(flavigny)

$120

Henriot "brut souverain"

(reims)

$125

jacquesson "cuvée 740" extra brut ⧫

(dizy)

$128

paul clouet grand cru brut ⧫

(bouzy)

$130

pol roger brut

(epernay)

$130

domaine nowack "la fontinette" extra brut blanc de meunier ⧫

(vandieres)

$130

moussé & fils "terre d'illite" extra brut blanc de noirs ⧫

cuisles

$130

veuve fourny blanc de blancs

vertus

$130

pierre peters blanc de blanc cuvée de réserve brut ⧫

(le mesnil-sur-oger)

$135

Frederic savart "l'ouverture" brut ⧫

ecueil

$135

miniere "influence" brut

(hermonville)

$140

g.h. mumm blanc de blancs

(reims)

$145

leclerc briant brut réserve ⧫

(epernay)

$145

dhondt-grellet "les terres fines" blanc de blancs extra brut ⧫

flavigny

$145

lelarge-pugeot "les meuniers de clémence" ⧫

(vrigny)

$148

egly-ouriet "les prémices" brut ⧫

(ambonnay)

$150

benoit lahaye brut nature ⧫

(bouzy)

$150

egly-ouriet "les vignes de vrigny" brut ⧫

(ambonnay)

$158

delamotte blanc de blancs

(mesnil-sur-oger)

$160

ruinart blanc de blancs brut

(reims)

$160

billecart-salmon sous bois brut

(mareuil-sur-aÿ)

$165

ulysse collin "les maillons" blanc de noirs ⧫

(congy)

$165

egly-ouriet "tradition" grand cru brut ⧫

(ambonnay)

$195

ulysse collin "les pierrières" blanc de blanc extra brut

(congy)

$185

bollinger PN VZ15

(verzenay)

$185

jacqueson "cuvée 736" extra brut

(dizy)

$220

drappier 'quattore' blanc de quatre blancs ⧫

(urville)

$240

egly-ouriet blanc de noirs ⧫

(ambonnay)

$250

krug "grand cuvée" 168eme brut

(reims)

$295

Jacques Selosse "substance" blanc de blancs brut grand cru ⧫

(avize)

$540
champagne rosé
⧫ denotes grower champagne
haton et fils brut

(romery)

$90

tribaut-schloesser brut

(romery)

$95

canard-duchene

(ludes)

$95

thiénot brut

(taissy)

$105

dumangin "le rosé" 1er cru brut ⧫

(chigny-les-roses)

$120

collet brut

(aÿ)

$120

lanson "rose label" brut

(reims)

$120

aubry brut

(jouy-les-reims)

$120

marc hebrart premier cru brut

(mareuil- sur-aÿ)

$120

veuve clicquot brut

(reims)

$120

jean vesselle "rosée de saignée" brut ⧫

(bouzy)

$125

deutz brut

(aÿ)

$130

coessens 'largillier" rosé de saignée ⧫

(ville-sur-arce)

$130

pierre gimonnet " rosé de blancs" ⧫

(cuis)

$135

tarlant " zero" brut

(reims)

$137

lelarge-pugeot premier cru extra brut

vrigny

$140

laurent perrier brut

tours-sur-marne

$145

ruinart brut

(reims)

$170

ulysse collin rosé de saignée "les maillons" ⧫

(congy)

$175

billecart-salmon brut

(mareuil-sur-aÿ)

$180

egly-ouriet grand cru brut ⧫

(ambonnay)

$190

dhondt-grellet "le mont de fer" rose de maceration extra brut

(terroir d'avenay val d'or)

$210

henri giraud "code noir" brut ⧫

(aÿ)

$220

forget-chemin special club premier cru 2014 ⧫

ludes-le-coquet

$270

bollinger "la grande année" brut '05

(aÿ)

$340
france
⧫ denotes grower sparkling
faire la fête crémant de limoux

(languedoc)

$50

Claude branger "l'eclipse" muscadet

loire

$50

terres secrétes crémant de bourgogne brut

(burgundy)

$55

lambert de seyssel 'royal seyssel'

(savoie)

$60

domaine mouillard crémant du jura

(jura)

$60

marcel martin 'tête de cuvée'

(loire)

$65

marnes blanche crémant du jura

jura

$69

famille montesuit grande reserve

(savoie)

$75

domaine belluard "mont blanc" '14

(savoie)

$92
italy
⧫ denotes grower sparkling
ca' fulan "cuvée adriana" moscato

(asti)

$42

bianca vigna prosecco

(valdobbiadene)

$42

contratto "millesimato" '11

(piedmont)

$50

dama del rovere durello spumante brut

(veneto)

$52

murgo extra brut metodo classico '09

(sicily)

$55

follador brut nature valdobbiadene prosecco '18

(veneto)

$70

maso martis brut riserva '07

(trento)

$75

luigi ferrando erbaluce di caluso brut spumante

(piedmont)

$75

pizzini "bagnadore" franciacorta riserva '08

(lombardy)

$120

alice "doro nature" prosecco brut '16 1.5L

veneto

$120
spain
Roger Goulart "gran reserva" brut "12

penedes

$48

avinyo gran reserva '12

(penedes)

$50

raventos i blanc blanc de blancs '17

(cpnca del riu anoia)

$60

los bermejos "brut nature" ⧫

(canary islands)

$75

huguet de can feixes brut nature corpinnat '10

(penedes)

$76

equipo navazos "colet-navazos" extra brut '14

(penedes)

$85

mestres "clos nostre senyor" brut nature cava '04

(penedès)

$90
united states
⧫ denotes grower sparkling
bodkin "cuvee agincourt" sauvignon blanc

(lake county)

$50

gruet "sauvage" blanc de blancs brut

(albuquerque)

$58

Herman J. wiemer "cuvée brut" '14

finger lakes

$65

schramsberg blanc de blancs

(napa)

$75

schramsberg blanc de noirs

(napa)

$75

domaine carneros brut '15

(carneros)

$75

iron horse "wedding cuvee" '14

(sonoma)

$80

roederer "l'ermitage" brut '09

(anderson valley)

$115

under the wire "alder springs" '13 ⧫

(mendocino)

$115

fiddlehead "728 bubbles" blanc de noir '12 ⧫

(santa rita hills)

$120

domaine carneros "le rêve" brut '08 ⧫

(carneros)

$165

schramsberg "j.schram" brut '09

napa

$180
globetrotting
hild elbing sekt

(mosel, germany)

$58

hattingley "classic reserve"

(alresford)

$65

stein "ohne" riesling sekt extra brut '11 ⧫

(mosel, germany)

$65

királyudvar "henye" brut tokaji pezsgő '15

(tokaj, hungary)

$68

allan scott "cecilia" brut

(marlborough, new zeland)

$70

ridgeview "cavendish" brut ⧫

(sussex, england)

$75

ridgeview "bloomsbury" brut ⧫

(sussex, england)

$80

peter lauer brut sekt riesling ⧫

(saar, germany)

$85

nyetimber "classic cuvée"

(sussex, england)

$90

gusbourne brut reserve '15 ⧫

(sussex, england)

$120

ridgeview blanc de noirs limited release ⧫

(sussex, england)

$135

peter lauer brut sekt riesling '96 ⧫

(saar, germany)

$140
sparkling rosé
⧫ denotes grower sparkling
mercat cava brut

(penedès, spain)

$45

ca'vittoria rose

(veneto, italy)

$48

louis de grenelle "corail" saumur

(loire, france)

$48

simonnet-febvre cremant de bourgogne brut

(burgundy, france)

$52

catena "alma negra" malbec

(mendoza, argentina)

$55

avinyo reserva cava brut

(penedes)

$55

ameztoi "rubentis" getariako txakolina

(pais vasco; spain)

$55

faire la fete " cremant du limoux"

(languedoc-roussillon)

$55

Camille Braun crémant d'alsace rosé

(alsace, france)

$55

weingut herman moser "rosi mosi" rosé

(kremstal, austria)

$58

raventós i blanc "de nit" cava '16

(penedès, spain)

$60

murgo metodo classico '18

(sicily, italy)

$60

szigeti pinot noir

(burgenland, austria)

$60

contadi castaldi franciacorta

(lombardy, italy)

$64

argyle brut '14 ⧫

(willamette, oregon)

$70

quartz reef

(central otago, new zealand)

$70

schramsberg brut '14

(napa, california)

$85

the bolney estate "cuvée rosé" brut '13

(sussex, england)

$100

ridgeview "fitzrovia" brut

(sussex, england)

$105

soter "mineral springs" brut '11 ⧫

(willamette, oregon)

$125

hattingley valley brut

(alresford, england)

$134
au naturel
⧫ denotes grower sparkling
ludovic chanson "sans pagne" chardonnay/sauvignon blanc

loire, france

$60

les parcelles tete nat "igny ruse" chenin blanc '17

(loire, france)

$60

le sot de l'ange "la boutanche" chardonnay/Sauvignon blanc

(loire, france)

$65

broc cellars petillant wine chenin blanc

(berkley, usa)

$65

scribe petillant naturel" '18 riesling

(sonoma, california)

$68

les caprices "pet sec blanc" Chenin blanc

loire, france

$65

milan nestarec white, grüner veltiner '15

moravia, czech republic)

$68

marnes blanches "bulle ton body" chardonnay

jura

$69

day wines "mamacita" malvasia '17

(dundee hills, oregon)

$70

saumon "la petite gaule du matin" chenin blanc

(loire, france)

$70

forlon hope "heinzelmann" '15 picpoul

(napa, california)

$85

renardat-fache bugey-cerdon '18 gamay rosé

(savoie, france)

$58

kobal bajta blaufrankisch rose

(slovenia)

$60

les capriades "pynoz" pinot d'aunis rosé

(loire, france)

$70

alice "m fondo" marzemino

(veneto, italy)

$66

les capriades "la bulle rouge" '18 gamay

loire, france

$68

jauma "archie's" shiraz

mclaren vale, autralia

$80

Emilio montesissa "bonissima" malvasia/ortuga (orange wine)

Emilia-romagna

$65
sparkling red
famiglia carafoli "nicchia" lambrusco di modena

emilia-romagna, italy

$42

bertolani "rosso all'antica" lambrusco secco '16

(emilia romagna, italy)

$45

parigot bourgogne mousseux rouge pinot noir

(burgundy, france)

$60

cotar crna penina

kras, slovenia

$60
vintage champagne
⧫ denotes grower champagne
charles cazanove brut '06

(reims)

$105

bedel "l'âme de la terre" millésime '04

(croutes-sur-marne)

$120

vazart-coquart "grand bouquet" blanc de blancs 2013 ⧫

(Chouilly)

$130

philippe fontaine "cuvée des lys" brut '13 blanc de blancs ⧫

(les riceys)

$130

j. lasalle "cuvée angeline" permier cru '11

(chingy-les-roses)

$135

pacal doquet "coeur de terroir" 2006

vertus

$145

lallier millesime brut 2010

(ay)

$155

lanson "gold label" brut '05 ⧫

(reims)

$160

le mesnil "prestige" grand cru brut '06

(le mesnuil-sur-oger)

$165

veuve fourny blanc de blancs '12

vertus

$170

louis roederer "starck" brut nature '09

(reims)

$175

pierre paillard "le grande récolte" extra brut '06 ⧫

(bouzy)

$180

tribaut "l'authentique" '09

(romery)

$180

pierre gimonnet special club '12 ⧫

(cuis)

$180

roland champion grand cru " chouilly" special club 2012 ⧫

chouilly

$195

hervieux-dumez "sacy" special club 2014 ⧫

sacy

$210

dhondt-grellet "les nogers" blanc de blancs 2015 ⧫

(flavigny)

$210

Paul Bara "special club" 2012 ⧫

(Bouzy)

$220

ayala "cuvée perle d'ayala" grand cru brut '05

(aÿ)

$240

boizel "joyau de france" brut '00

(epernay)

$250

pierre gimonnet special club grand cru oger '12 ⧫

(oger)

$240

perrier-jouët "belle epoque" '12

(epernay)

$260

veuve clicquot "la grande dame" '08

(reims)

$295

dom pérignon brut '06

(epernay)

$300

billecart-salmon blanc de blanc brut '04

(mareuil-sur-aÿ)

$300

duval-leroy "la femme de champagne" '00

(reims)

$325

billecart-salmon "cuvée nicolas françois" brut '02

(mareuil-sur-aÿ)

$340

pol roger "winston churchill" '04

(epernay)

$400

louis roederer "cristal" brut '08

(reims)

$430

billecart-salmon "le clos saint hilaire" blanc de noirs brut '99

(mareuil-sur-aÿ)

$540

Krug brut 2004

(reims)

$540

taittinger collection '08

(reims)

$550

salon "le mesnil" blanc de blancs brut '07 ⧫

(le mesnil-sur-oger)

$800
small and large format champagne
⧫ denotes grower champagne
Laurent Perrier "la cuvée" brut 187ml

(tours-sur-marnes)

$30

Camille savès 'carte blanche" 1.5L ⧫

(Bouzy)

$180

J.lassalle "cuvée préférence" brut 1.5L

(chigny-les-roses)

$210

Drappier "carte d'or" 1.5L

(aube)

$230

veuve fourny et fils rose 1.5L

(vertus)

$260

Delamotte brut reserve 1.5L

(le mesnil-sur-oger)

$250

veuve clicquot "yellow label" 1.5L

(reims)

$250

jean laurent blanc de blancs '96 1.5L ⧫

(aube)

$600

Louis roederer " Cristal" brut 09'

(reims)

$600

louis roederer "cristal' brut '07 1.5L

(reims)

$650

Perrier-jouet "belle epoque" '12 1.5L

(epernay)

$750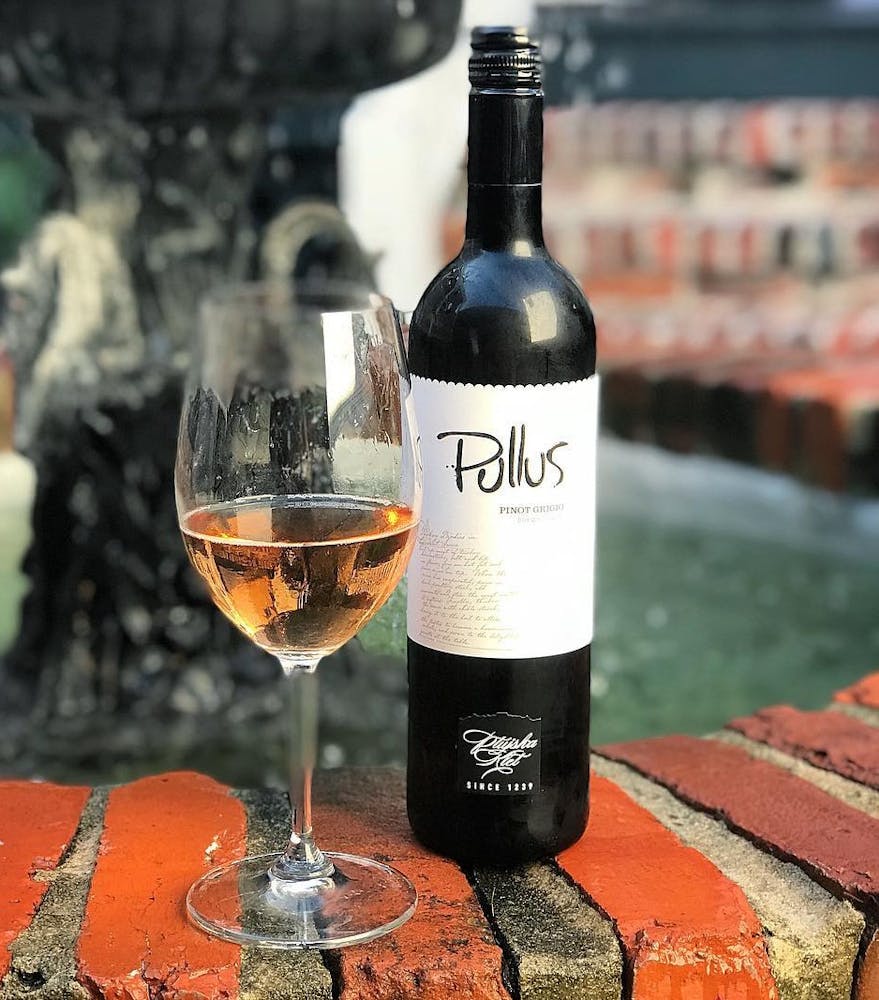 white wine by the glass
Henri Perrusset macon-village chardonnay '17

(burgundy, france)

$14
rosé by the glass
bieler père et fils "sabine" '16

(provence, france)

$11
red by the glass
argyle pinot noir '15

(willamette, oregon)

$12

vending machine "crooked mayor" cabernet sauvignon

(napa, california)

$14
white wine by the bottle
chateau de la ragotiere muscadet '17

(loire, france)

$45

chateau d epire savenieres chenin blanc '15

(loire, france)

$500

wieninger "gemischter satz" field blend

(vienna, austria)

$55

kiralyudvar furmint sec

(tokaij, hungary)

$58

foradori "fontanasanta" manzoni bianco '15

(trentino, italy)

$58

joseph mellot sancerre sauvignon blanc '18

(loire valley)

$60

henri perrusset macon villages chardonnay '15

(burgundy, france)

$60

domaine du bagnol cassis blanc marsanne '16

(provence, france)

$68

zind-humbrecht "zind" chardonnay/auxerrois

(alsace, france)

$75

keller kabinett riesling

(mosel, germany)

$78

conreria d'scala dei "les brugueres" garnatxa blanca

(priorat, spain)

$80

jordan chardonnay

(russian river valley, california)

$80

emilio rojo ribeiro blanco treixadura blend '15

(galicia, spain)

$135
rosé by the bottle
scovero vino rosato barbera

(piedmont, italy)

$58

scribe pinot noir '17

(sonoma, california)

$60

domaine comte abbatuci "valle di nero" carcajolu/neru

corsica, france

$65

vending machine " field trip" zweigelt blend '18

(willamette, oregon)

$68

clos cibonne " cuvee speciale" tibouren

(provence, france)

$72

domaine tempier bandol mourvedre blend '18

(provence, france)

$90
red by the bottle
red
chateau fontanes cabernet sauvignon '16

(languedoc-rousillon, france)

$44

chateau du cayrou malbec '14

(cahors, france)

$50

denuzieres crozes-hermitage syrah blend '15

(rhone, france)

$60

clos cibonne rouge tibouren '18

(provence, france)

$65

mikael boutin rasteau grenache blend '14

(rhone, france)

$68

thevenet morgon '15 gamay

(beaujolais, france)

$69

vending machine "crooked mayor" cabernet sauvignon

(napa, california)

$70

vending machine "double shotgun" petit verdot/cabernet franc

napa, california

$70

r. lopez de heredia "vina cubillo" '08 tempranillo

(rioja, spain)

$70

gio domenico negro "prachiosso" '13

(roero, italy)

$75

sadie family "soldaat" grenache '15

(olifants river valley, south africa)

$100

chateau pradeaux bandol rouge '13

(provence, france)

$100

terroir al limit "torroja" garnatxa/carinyena '14

(priorat, spain)

$120

revelry block 18 syrah 13'

(washingtom, usa)

$120

chateau pradeaux bandol rouge '12 1.5L

(provence, france)

$210

egly-ouriet ambonnay rouge pinot noir '14

(champagne, france)

$320

inglenook "rubicon" cabernet sauvignon '10

(napa, california)

$350

chateau de la nerthe cuvee des cadettes 2012 CDP 1.5L

chateauneuf-du-pape

$480

inglenook "rubicon" cabernet sauvignon '10 1.5L

(napa, california)

$700
orange by the bottle
pullus pinot grigio ramato

(styria, slovenia)

$44

minimus "i have brett. i am ok..."

(willamette, oregon)

$60

terpin ribolla gialla

(venezia-giulia, italy)

$90

gravner "bianco breg" sauvignon blend '08

(giulia, italy)

$145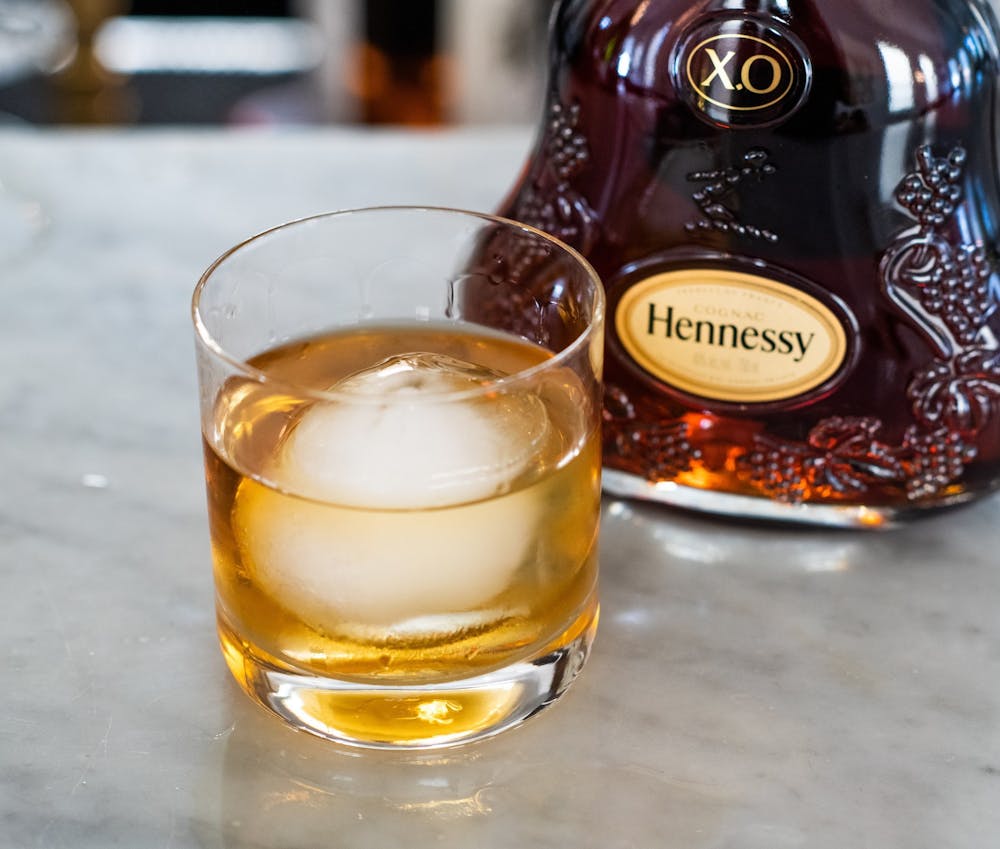 brews
the champagne of beers

wisconsin

$5

nola "7th street wheat"

louisiana

$7

corsendonk dubbel brown ale

belgium

$8

deus "brut des flandres" 750mL

$50

aval cider

$8

jaanihanso brut cider 750ml

estonia

$40
american whiskey
buffalo trace bourbon

(kentucky)

$9

templeton 4 year rye

(indiana)

$9

maker's mark bourbon

(kentucky)

$10

russell's reserve 10 year

(kentucky)

$11

mb roland "still & barrel proof" bourbon

(kentucky)

$11

dickel barrel select

(tennessee)

$12

james e. pepper barrel proof rye

(indiana)

$12

1792 full proof bourbon

(kentucky)

$12

bib & tucker 6 yr

kentucky

$12

alpine lafayette

(utah)

$12

willett pot still bourbon

(kentucky)

$12

wild turkey "longbranch"

(kentucky)

$12

russell's reserve 6 yr rye

(kentucky)

$12

blade & bow bourbon

(kentucky)

$13

mitcher's bourbon small batch US1

(kentucky)

$13

corsair citra double ipa

(tennessee)

$14

american craft "low gap"

(california)

$15

seven three distillery "irish channel"

(louisiana)

$17

southwell 12 year bourbon

(kentucky)

$18

blanton's single origin bourbon

kentucky

$19

westland american single malt

(washington)

$20

whistle pig rye

(vermont)

$25
imported whiskey
dewar's white label

(scotland)

$9

crown royal black

(canada)

$9

crown royal bourbon mash

(canada)

$9

jameson

(ireland)

$10

suntory toki

(japan)

$11

vicomte 8 year

(france)

$12

compass box "great king street"

(scotland)

$12

glen grant 12yr

(scotland)

$12

nikka coffee grain

(japan)

$13

compass box "oak cross"

(scotland)

$13

laphroaig 10yr

(scotland)

$13

dewar's 15yr

(scotland)

$13

glenmorangie "quinta ruban" 14yr

(scotland)

$15

kinahan's 10 yr

(ireland)

$15

dalmore 12 yr

(scotland)

$17

redbreast 12 yr

(ireland)

$17

glenmorangie "astar"

(scotland)

$24

compass box "hedonism"

(scotland)

$25

Johny walker "blue label"

scotland

$38

glenmorangie 18 year extremely rare

(scotland)

$30
tequila & mezcal
cimarron reposado

$8

espolon blanco

$9

espolon anejo

$10

fortaleza blanco

$15

casa migos añejo

$16

penta anejo

$30

tears of llorona extra anejo

$40

el buho mezcal

$10

illegal reposado mezcal

$14

casa migos mezcal

$16

siembra metl joven mezcal

$22

los nahuales añejo mezcal

$25
vodka
tito's, corn

(texas)

$8

seven three distillery "st. roch", wheat

(louisiana)

$9

woody creek, potato

(colorado)

$9

dps ca "citrus vodka", wheat

california

$9

VKA "organic vodka", farro

(italy)

$9

suntori haku, rice

(japan)

$9

nola pepper vodka, sweet potato

(louisiana)

$9

ketel one, wheat

(holland)

$9

belvedere single estate, rye

(poland

$14

stolichnaya "stoli elit", wheat

(russia)

$15
Gin
bulldog

(england)

$9

junipero

(california)

$9

hayman's old tom

(england)

$9

Citadel

(france)

$10

corsair "barrel aged"

(kentucky)

$12

seven three distillery "gentilly"

(louisiana)

$12

hendrick's

(scotland)

$12

ferdinand "saar dry"

(germany)

$15
rum
the funk rum

$8

bayou spiced

$9

hamilton jamaican pot still black

$9

la favorite " rhum agricole"

$10

seven three distillery "black pearl"

$10

roulaison

$10

ron zacapa 23 year

$12

el dorado 15 yr

$12

el dorado " master blender's special edition"

$14

el dorado 12yr madeira single cask

$28
brandy
bache-gabrielsen "tre kors" cognac

$12

d'useé vsop cognac

$15

ae dor xo fine petite champagne cognac

$28

maison surrenne petite champagne cognac

$28

bache-gabrielsen xo cognac

$28

hennessey xo

$32

morin calvados

$10

torres 20 "hors d'age" spanish brandy

$20

marquis de montesquiou armagnac

$10

château de laubade armagnac

$15
fortified, sometimes sweet
hijos de rainera pérez "la guita" manzanilla sherry

(sanlúcar de barrameda, spain)

$7

lustau "don nuno" oloroso sherry

(jerez, spain)

$9

barbadillo pedro ximenéz sherry

(sanlúcar de barrameda, spain)

$9

rare wines "baltimore rainwater" madeira

(madeira, portugal)

$9

warre's heritage ruby porto

(douro, portugal)

$8

taylor fladgate 10 year tawny porto

(douro, portugal)

$12

poli miele grappa

(veneto, italy)

$12
Slide 1 of 2
Slide 2 of 2