Krug x Onion at Effervescence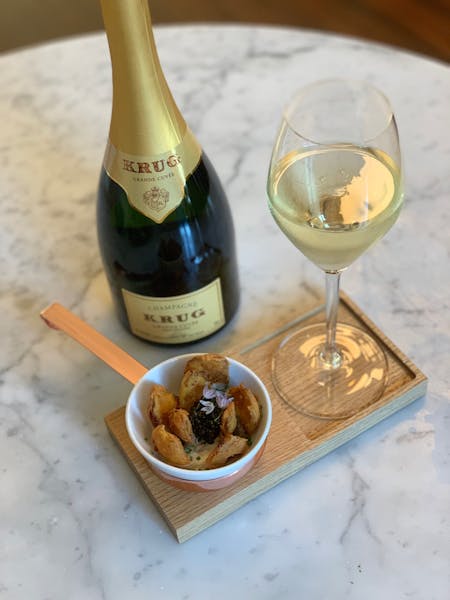 Extended through the first week of June!
During the month of May we are presenting "Krug xonion", a single ingredient pairing, paying tribute to the humble onion and the countless pleasures it can reveal when paired with Krug Champagne. For this year's ingredient, Krug selected the onion family and Effervescence's chef team has created a special bite to highlight the best of both.
At Effervescence, we love to simultaneously embrace the familiar and the extravagant. We hope you will venture to enjoy the simple, comforting flavors of fried onions with the luxury of caviar and fine Champagne with us.
krug "grande cuvée"
168ème édition brut
paired with
shallot in bloom
fried shallot petals, kaluga fusion caviar, whipped fondue, chive
$68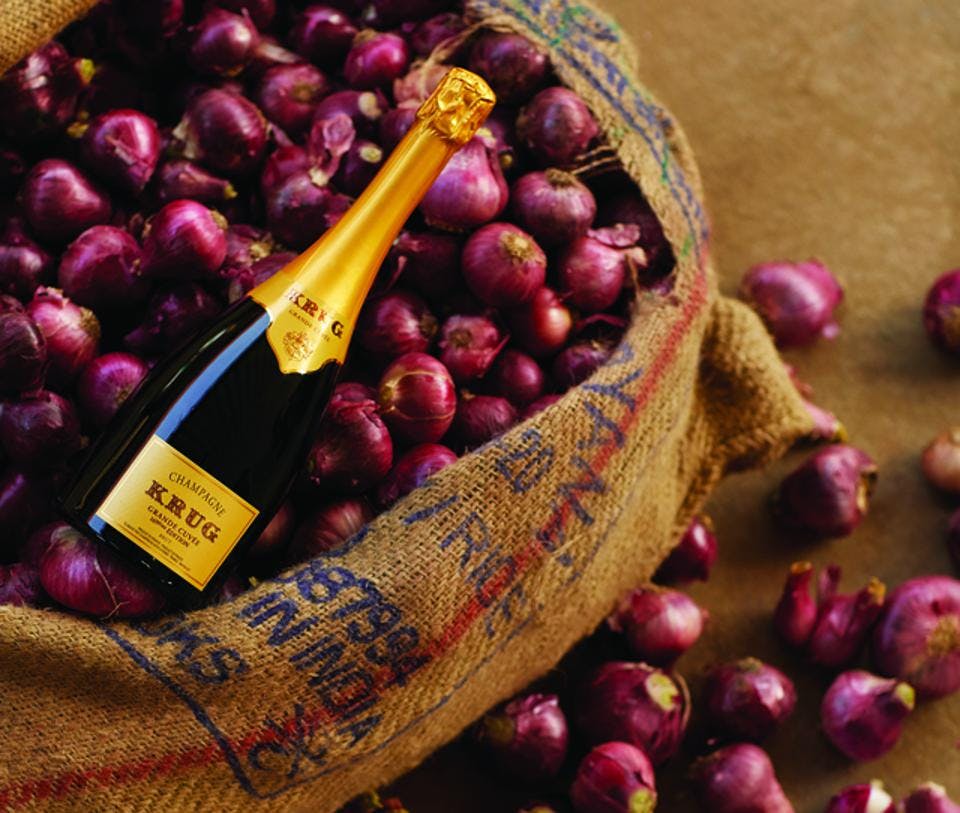 A note from our Chefs:
We knew right away we wanted to create a fun, familiar onion dish to pair with Krug. The smell of sautéed onions is one of the most ubiquitous and loved cooking aromas in the world, we really wanted to highlight their comforting, universal appeal. We took something satisfying and loved like fried onions and topped them with luxurious caviar and delicate chive flowers, fit for a Krug pairing. For us, this was the perfect opportunity to take this fine Champagne from a formal white tablecloth to a laid-back snack experience in a French Quarter lounge, conjuring a few alluring street food flavors along the way, but without losing any grandeur or sumptuousness.
Elevating something common and unassuming like the onion really has the ability to surprise and delight. The high-low pairing reveals something delicious and unexpected in both the wine and the food. Krug is all at once a bold, vibrant and refined - like an onion it has layers! Krug pairs brilliantly with bold, savory dishes. The bright acidity cuts the richness of the dredge and the fondue, allowing the flavors to really shine. The topping of reserve Kaluga fusion caivar definitely oomphs up the luxury and umami, but it also sings with the refined salinity of the Champagne. We chose shallots because their higher sugar content creates caramelization that compliments the toast and age of the multi-vintage Champagne.
We love putting vegetables at the center of the plate- or snack bowl. A glass of Krug makes it even more enticing.
Chef Brenna Sanders & Chef Evan Ingram
Effervescence
New Orleans